Workshops, Training & Consultation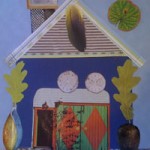 Creating Home: A Collage Workshop
Date: 5/19/12
Time: 9:00 AM – 12:30 PM
Fee: $50.00
What does "home" look like for you?  What meaning does the image hold?  This workshop will help you design your vision with ready to use house templates. Decorative papers, images and art objects are supplied to help you clarify a direction, create positive perspective, and symbolize goals. Reflect on the past and find resolution.  Enjoy and relax as you focus on showing yourself something unexpected.  Guidance, structure and materials are provided, though you are welcome to provide or add your own materials. Come prepared for discovery.  To register send payment to:  Jan Chess, PhD, 604-3rd Street, Davis, Ca  95616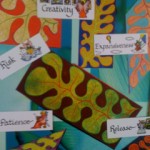 Reflections:  An Art Workshop
Date:  5/12/12  — 9:00 – 12:30 PM   — $ 50.00 fee
Could you benefit from a creative retreat to be with yourself in the company of others?  This workshop offers a supportive time and place for reflection and resolutions.  Within a guided structure, participants will have the create symbols of th of healing and beauty.  There will also be opportunities for meditation and sharing experience.  No previous art experience is necessary, though artists are welcomed.
Healing Childhood Pain:  A Psychotherapy Group for Female Survivors of Childhood Sexual Abuse
Date:  TBA 2/2013   Tuesdays     1:30 pm – 3:00 pm     8 week cycle     Davis location
Healing happens in relationship with others.  In this company it becomes possible to name, share and explore the pain of loneliness, fear and despair so that the nature of suffering itself is changed.  Respectful listening and thoughtful feedback provides an opportunity to take the next steps in your healing journey.
Case Consultation Group
Date: Wednesday – 12:30 PM -downtown Davis or
Friday – 9:00 AM – 10:30 AM -mid-town Sacramento
Time: Fee: $50.00
This monthly group is for licensed clinicians who want to broaden their understanding and strengthen their skills in working with adult trauma survivors. The theoretical underpinnings draw from attachment, trauma and relational psychoanalytic theories as well as considering neurobiological research. There will be supplemental reading and discussion as well as opportunity to present cases. Both experienced and newer clinicians are welcome.
Trauma Treatment Trainings
These accessible trainings can be designed for small in larger groups in a variety of settings. High schools, hospitals, non-profit clinics and professional associations are only a few of the possible venues. Previous attendees report satisfaction at the application of theory to intervention. Application of expressive art therapies in treatment as well as mindfulness will support the immediate practicality of these information packed intensives.