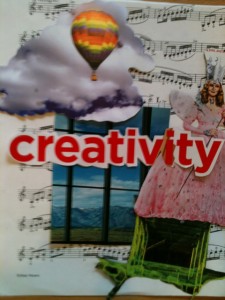 I'm not the biggest fan of winter with the Central Valley fog, chilly winds and layers of clothes that require more assemblage than I wish.  Ordinary tasks can feel laden with heaviness as I will myself to follow through on necessary tasks like billing insurance companies or wiping down the kitchen counters.  It's an easy mistake I can make to imagine that it is those tasks themselves, rather than my attitude that creates discontent and boredom.
During these moments it often occurs to me that I can renew my energy if I can sit down and create a piece of art or practice a song I'm learning for choir practice.  Sometimes I sacrifice that possibility to the Goddess of cleanliness, order or responsibility.  When I've achieved the illusion that I am somehow "in control" I can then sit down to encounter myself in a new way.  Take today's collage, for example.  I'd discovered the word "creativity" on a magazine cover and knew it was the start of something I wanted to explore.  With a penchant for piles, I noticed an etude scores that were the perfect background with their meticulous eighth notes marching up and down.  I'd preserved Glenda the good witch for a time when she was needed.  She brings magic through expression and reminds me transformation is always a possibility with a change of perspective.  The hot air balloon requires little explanation.  What sweet relief there is in floating above it all, enjoying a bigger picture and at the same time, letting go of details that discourage risk taking.  And then there is the window.  It was one of the last images to join the collage.  What can I see around me when I open my eyes from the ground level?  And how can I find an interesting new use or perspective to make me unexpectedly smile?  I don't know what the green box has to say.  Perhaps winter darkness yielding to a verdant Spring in several months?
I invite you to yield to the creative in you today.  Begin a project that interests or excites you.  Cook a meal with love and new spices.  Have an in depth conversation with your dogs. Approach a difficult topic with a loved one while staying true to knowing more about your own experience as it bubbles up inside of you.   Any activity can be a reminder of the ways in which you are creativity is a potent fuel for  jumpstarting possibility.